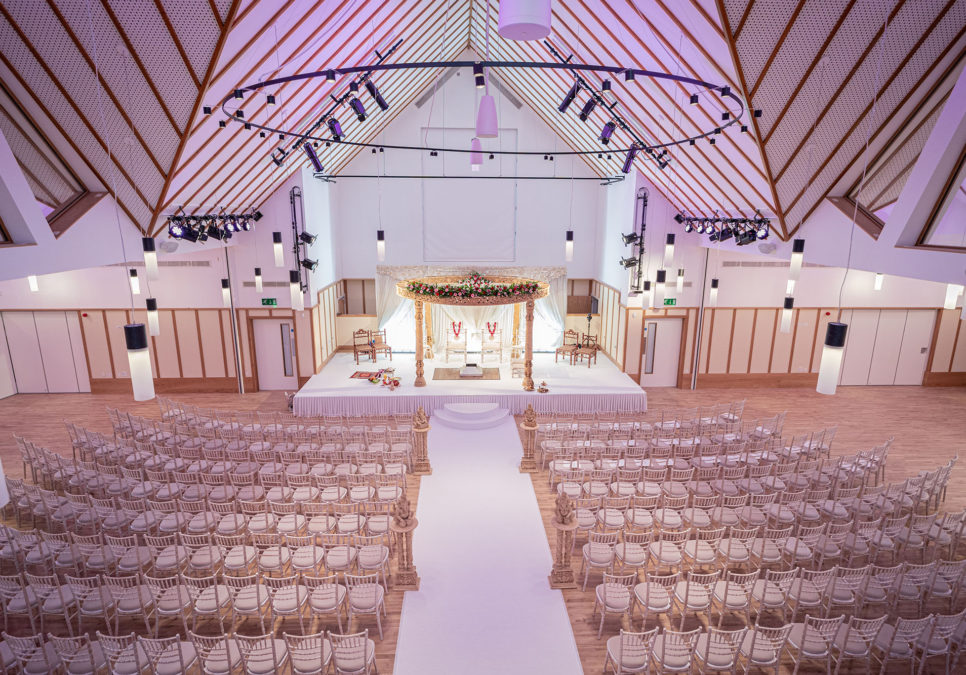 Client_
Bhaktivedanta Manor
Designer_
Cottrell and Vermuelen Architecture
Services_
Building Acoustics
Building Services & Environmental Design
Lighting Design
Sector_
Heritage and Places of Worship
OR Consulting acted as building services consultants, lighting designers and acousticians for the development of the new Haveli Building at Bhaktivedanta Manor.
The Haveli Building houses a multi-use function hall (for 900 people), Prasad Hall (for 800 people), commercial kitchen (for 2,000 covers), bakery facility, shop, classrooms, family room and an entrance foyer. The building is intended to be used as a hub for the community and to act as a venue for weddings and religious festivals.
The Haveli's environmental design is required to be sustainable, adaptable and beautifully detailed. To these ends:
• The Haveli Building utilises heat pump technology to heat the building in winter.
• Whilst in mid-season and summer, the building is naturally ventilated and passively cooled.
• Under peak occupancy the Function and Prasad Halls supplement their passive cooling strategy with mechanical cooling and displacement techniques.
The acoustic design of the spaces has been conceived to allow the use of the building for a wide range of uses such as worship, drama, dance, dining, conference, etc.
Whilst the low energy lighting design integrates innovative LED "architectural and performance " lighting with DMX control to transform the space in different modes of operation and reduce lighting energy loads by over 50%.
The building's AV design transforms the visitor experience and facilitates multi-media broadcasting internally, throughout the building, and externally across the web.