Sustainability
By Marie Meenan, Mechanical Engineer
In 2022, the UK experienced its first recorded temperature of over 40 degrees. Reflected across the world, rising temperatures are posing an increasingly damaging threat to our way of life, with many countries already experiencing the dangerous effects of global heating. It is reported that our built environment accounts for approximately 25% of the UK's emissions (Gov, 2022). With the UK's target of Net Zero by 2050 across disciplines, OR Consulting is furthering our commitment to integrating sustainability holistically into our practices, reflected in the operation of our own office to the work we do on diverse projects. As technology, materials, and databases become increasingly efficient and widespread, we are looking forward to taking advantage of the opportunity that building services presents in addressing the climate emergency.
The IET has identified the skills gap that engineers face in sustainability (IET, 2021). Addressing this, we are intent on bridging the gap between the technical skills required to build high performing buildings and the soft skills required to implement sustainable innovations and practices. To maximise OR Consulting's contribution on the sustainability of an entire project, we are building upon our collaborative working skills across disciplines, considering more sustainable materials, and making sure clients are fully aware of how their buildings operate.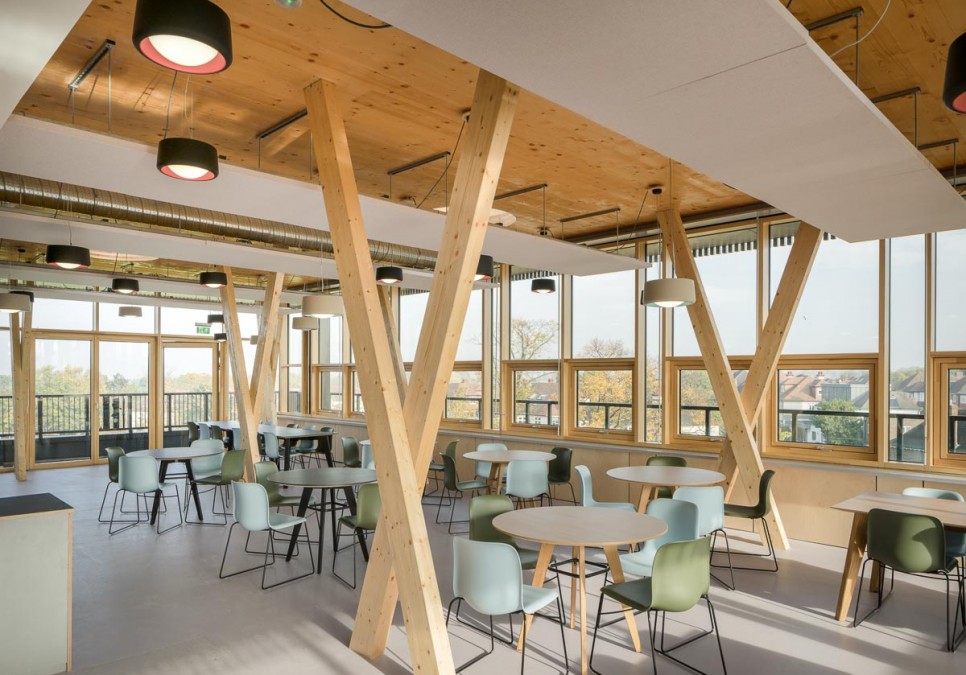 Streatham and Clapham High School (Photo: Anthony Coleman)
As well as ensuring our new buildings are efficient as possible, we acknowledge the significance and urgency of retrofitting existing buildings towards the UK's climate targets. LETI, Passivhaus, and CIBSE publications are providing increasingly robust and ambitious targets, engaging the roles of fabric efficiency, heat pumps, retrofit plans and embodied carbon. We are hoping to increase our implementation of these standards across our projects to contribute to the sustainable buildings' movement.
Moreover, the built environment presents an exciting opportunity to contribute positively to the UN's Sustainable Development Goals by:
Promoting Good Health and Wellbeing (SDG 3)
Designing Quality Education facilities (SDG 4)
Providing Affordable and Clean Energy (SDG 7)
Driving Industry, Innovation and Infrastructure (SDG 9)
Contributing to Sustainable Cities and Communities (SDG 11)
Encouraging Responsible Consumption and Production (SDG 12)
Pursuing Climate Action (SDG 13)
Bean Learning Resource Centre (Photo: Anthony Coleman)
OR Consulting inherently contributes to these goals as part of our ethos, believing in 'designing beautiful buildings that are sustainable, cost effective and intuitive for people to occupy, operate, and maintain'.
Buildings represent our culture, our homes and our future. It is our responsibility to create a beautiful, efficient, and sustainable built environment not just for the UK but globally, and for generations to come.